Everything started when I was a teenager, I used to repair cables and modify guitars for my bands members, at that time there was no internet so I had to figured out the way many things work on my own. Then my love for guitars and related gear grew up and I got to face with the eternal tone chasing. I was attending GIT at Musicians Institute at the beginning of 2000's and being in L.A. when all the "boutique" market hype just started didn't help much, but it got me focused on what maybe I was looking for, giving me a direction. I know I might be "picky", but I have never been 100% satisfied with what the market offered, so I started to modify what I had on hand, trying in the meantime to learn as much as I could from all the "gurus" I knew at the time. I'm still thankful to most of them, because in different ways I know they have been helpful.
So I started building my own pedals, just for fun and for the love of it, and at one point I found my friends liked a lot what I was building and I thought that it could be the beginning of something more consistent.
My Work Bench
Here is my tiny but comfy work bench, where all my works come to life!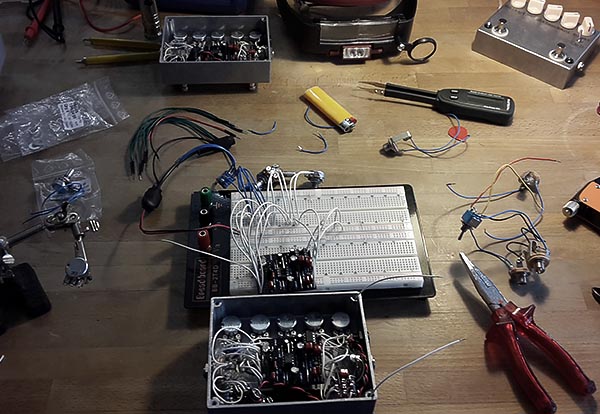 In the shop
New projects